It's in the Customer's Hands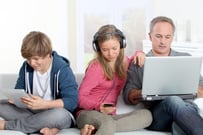 Retailers have seen the future and understand that it's in the
customer's hands. Now it's time for insurers to take the same journey and realize the power of customer engagement. Conquering aging legacy systems to deliver enhanced digital distribution is the challenge of today, but the future sees insurers employing digital to create a more consumer-centric environment, delivering a full range of products and services to own the customer even if they don't own all of the risk...
Fill out the form to download the full report.